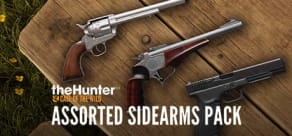 theHunter: Call of the Wild - Assorted Sidearms Pack
Available Countries
Antigua & Barbuda
Argentina
Bahamas
Barbados
Belize
Bermuda
Bolivia
Brazil
Chile
Colombia
Costa Rica
Cuba
Dominica
Dominican Republic
Ecuador
El Salvador
Falkland Islands
French Guiana
Grenada
Guatemala
Guyana
Haiti
Honduras
Jamaica
Mexico
Nicaragua
Panama
Paraguay
Peru
Puerto Rico
South Georgia & South Sandwich Islands
St. Kitts & Nevis
St. Lucia
St. Vincent & Grenadines
Suriname
Trinidad & Tobago
Uruguay
Venezuela
About the game
Add three versatile handguns to your hunting arsenal with the Assorted Sidearms Pack. These sidearms are ideal for self-defense against wild animal predators and a reliable alternative to your usual arsenal.

This Pack Contains:
10mm Davani (40A & G4LS): Semi-automatic pistol with a high-capacity clip for close- and mid-range use. Comes with a modified reflex sight.
.243 R.Cuomo (Competitor & Champion): Break-action single-shot handgun for accurate long-range hunting.
.45 Rolleston (Cavalry & Frontier): Classic Old West Americana revolver with great stopping power. Suitable for hunters who want to embrace their inner cowboy.
New Ammunition Types: 10mm Auto Jacketed Hollow Point, 10mm Auto Hard Cast, .45 Flat Nose, and .45 Colt Full Metal Jacket.
System Requirements
Minimum
OS:

Windows 7 - 64-bit

Storage:

60 GB

Processor:

Intel Core i3

Memory:

4 GB RAM

Graphics:

NVIDIA GTX 660 / ATI HD7870 - 1GB VRAM
Recommended
OS:

Windows 10 - 64-Bit

Storage:

60 GB

Processor:

Intel Core i7

Memory:

8 GB RAM

Graphics:

NVIDIA GTX 760 / R9 270x - 4GB VRAM