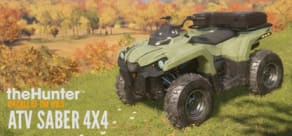 theHunter: Call of the Wild - ATV SABER 4X4
Available Countries
Antigua & Barbuda
Argentina
Bahamas
Barbados
Belize
Bermuda
Bolivia
Brazil
Chile
Colombia
Costa Rica
Cuba
Dominica
Dominican Republic
Ecuador
El Salvador
Falkland Islands
French Guiana
Grenada
Guatemala
Guyana
Haiti
Honduras
Jamaica
Mexico
Nicaragua
Panama
Paraguay
Peru
Puerto Rico
South Georgia & South Sandwich Islands
St. Kitts & Nevis
St. Lucia
St. Vincent & Grenadines
Suriname
Trinidad & Tobago
Uruguay
Venezuela
About the game
The wardens recently met at a conference for wildlife management, and realized how they have all noticed a buildup of visitors at the entry points of their respective hunting reserves. Due to frequent requests from hunters and to encourage full exploration of the reserves, the wardens have approved the use of All Terrain Vehicles (ATVs) within them – but strictly as a mode of transportation. Using the ATV, hunters and hikers alike will be able to discover more of the hidden beauty lying in wait - and have a great time doing it!
Highlights
SABER 4X4:
The SABER 4X4 gives you the ability to traverse rough terrain with unmatched comfort and style. Experience the rush as it takes you across fields, bogs and hills at breakneck speeds. This ATV is great for exploring and traveling through the reserves in a fast and fun way. The SABER 4X4 can be spawned for free at any outpost or tent.
Sharing the SABER 4X4
As owner of this DLC, you can easily share the all-terrain experience with your friends in multiplayer. Hosting or joining a game will allow all participants to spawn and drive vehicles. Everyone can explore the hunting reserve together or for themselves, all thanks to you. Once all DLC owners have left the multiplayer session, no new vehicles can be spawned, but remaining vehicles will stay available for the duration of the multiplayer session.
Steering the SABER 4X4
Whether you want to fully immerse yourself, driving in 1st person or rather have the complete overview of your surroundings in 3rd person, the SABER 4X4 is the vehicle for you. You can change the camera position with the press of a button (default: "C") which will be saved for your future rides. Show off your ATV from all angles using 3rd person or share your driving expertise from 1st person. We can't wait to see your results!
Jade, Crimson & Charcoal
The SABER 4X4 comes with three different color variations, Jade, Crimson and Charcoal. Every hunter can have one active vehicle at a time with no cost for retrieving or respawning. Rather go out with your crimson ATV today? It's all up to you.
System Requirements
Minimum
OS:

Windows 7 - 64-bit

Storage:

60 GB

Processor:

Intel Core i3

Memory:

4 GB RAM

Graphics:

NVIDIA GTX 660 / ATI HD7870 - 1GB VRAM
Recommended
OS:

Windows 10 - 64-Bit

Storage:

60 GB

Processor:

Intel Core i7

Memory:

8 GB RAM

Graphics:

NVIDIA GTX 760 / R9 270x - 4GB VRAM