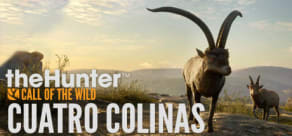 theHunter: Call of the Wild - Cuatro Colinas Game Reserve
Available Countries
Antigua & Barbuda
Argentina
Bahamas
Barbados
Belize
Bermuda
Bolivia
Brazil
Chile
Colombia
Costa Rica
Cuba
Dominica
Dominican Republic
Ecuador
El Salvador
Falkland Islands
French Guiana
Grenada
Guatemala
Guyana
Haiti
Honduras
Jamaica
Mexico
Nicaragua
Panama
Paraguay
Peru
Puerto Rico
South Georgia & South Sandwich Islands
St. Kitts & Nevis
St. Lucia
St. Vincent & Grenadines
Suriname
Trinidad & Tobago
Uruguay
Venezuela
About the game
Strolling across dazzling fields and through soft rolling hills, this part of Iberia is a romantic setting for any reserve. It is no wonder that warden & custodian Alejandra considers her soul entwined to the very land itself, this hunting ground of kings. From the oddly graceful marble quarry, soft hills and crumbling monastery, to the meadows covered in sunflowers and lavender alike, Cuatro Colinas Game Reserve will take your breath away.
Highlights
CUATRO COLINAS' FAUNA
The romantic landscape of Iberia has an equally diverse cast of wildlife roaming its various biomes. Chase after the European hare in the brushes, walk alongside the majestic red deer or temperamental wild boar, and catch roe deer grazing in the fields. Keep an eye out for the silent Iberian wolves and search the cliffs for the daring Mouflon Sheep. For those of you yearning for a challenge, you have the Spanish Grand Slam, which is made up of the 4 Ibex breeds - the humble Ronda, the agile Southeastern, the strapping Beceite and the daunting Gredos.
IBERIAN FLORA
If one had to describe Cuatro Colinas Game Reserve's ambience, it would be with one word - regal. The region exudes both rich history and flourishing nature, ripe for your exploration. Its most distinguishing feature is its vast open fields, covered in sunflowers, olive groves, and lavender, surrounded by soft mountains. Framing the open areas are broadleaf lush and dry pine forests, providing perfect cover for cautious animals. The land is far from untouched though, as the marble quarry's sharp angles create a stark contrast to the surrounding area.
MÅRTENSSON 6.5MM BOLT-ACTION RIFLE
The Mårtensson 6.5mm, the name while unusual is a tribute to a great foreign weapon master, is a modern bolt-action rifle manufactured by Spanish weaponsmiths. Designed to satisfy the needs of hunters and range shooters alike, this rifle features a smooth and reliable action encased in a lightweight ergonomic frame. Paired with the low recoil and flat trajectory of 6.5mm ammunition, the Mårtensson 6.5mm Bolt-Action Rifle boasts impressive accuracy even at long ranges.
The rifle is available in three colour variations: Lightning, Thunder and Rayo.
MISSIONS AND MEASURES
Cuatro Colinas Game Reserve spans a massive 25 square miles (64 square kilometers), and it will be your call whether you take off exploring the reserve and go your own way, or if you pick up the unique story with 14 new narrative missions, and 55 new side missions.
The land of Cuatro Colinas Game Reserve has had many different patrons, from the Kings of Europe who have wandered across the rocky dehesa, to modern hunters, equipped with the best of today's equipment. Now, however; Doña Alejandra del Bosque Garcia is straining under the responsibility that has occupied her family for centuries. Amidst troubling animal attacks, disgruntled farmers, family tragedy and hostile corporate takeovers, she must find a way to protect the very essence of what makes Cuatro Colinas a hunting ground worthy of kings. It is her destiny, and it could be yours too.
SHARED EXPERIENCE
As has been the case with previous paid DLCs, if a player doesn't own it they can still join a session in Cuatro Colinas Game Reserve at no cost by finding another player who owns it and joining their game.
System Requirements
Minimum
OS:

Windows 7 - 64-bit

Storage:

60 GB

Processor:

Intel Core i3

Memory:

4 GB RAM

Graphics:

NVIDIA GTX 660 / ATI HD7870 - 1GB VRAM
Recommended
OS:

Windows 10 - 64-Bit

Storage:

60 GB

Processor:

Intel Core i7

Memory:

8 GB RAM

Graphics:

NVIDIA GTX 760 / R9 270x - 4GB VRAM