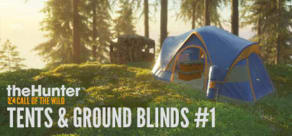 theHunter: Call of the Wild - Tents & Ground Blinds
Available Countries
Antigua & Barbuda
Argentina
Bahamas
Barbados
Belize
Bermuda
Bolivia
Brazil
Chile
Colombia
Costa Rica
Cuba
Dominica
Dominican Republic
Ecuador
El Salvador
Falkland Islands
French Guiana
Grenada
Guatemala
Guyana
Haiti
Honduras
Jamaica
Mexico
Nicaragua
Panama
Paraguay
Peru
Puerto Rico
South Georgia & South Sandwich Islands
St. Kitts & Nevis
St. Lucia
St. Vincent & Grenadines
Suriname
Trinidad & Tobago
Uruguay
Venezuela
About the game
theHunter: Call of the Wild - Tents & Ground Blinds:
ELITE 2 TENT
Setting up tents will create fast travel points almost anywhere you wish (although remember that in-game camping fees apply) which makes it great for exploring new areas and traveling to parts of the map that are particularly dense in the animal species you would like to hunt.
The ELITE 2 TENT is a two-man tent suitable for all weather conditions. The patented high-tech Mosquito Wall 2.0, tested under severe conditions in northern Scandinavia, is proven to decrease user blood loss by almost 5% compared to its previous generation. That's a lot of blood! This award-winning product also includes a large storage container that'll turn your mobile home into a fully functional outpost.
The tent makes it possible to access the store and purchase new gear for your inventory as well as rest up after a hard day of stalking and tracking. Just remember that placing, as well as fast traveling, to a tent creates noise which means you might spook some of the nearby animals.
Additional Characteristics:
A maximum of 8 tents can be placed in each reserve at the same time.
You can dismantle and move a tent at any point.
Available in: White, Blue, Pink, Green and Camo.
INCOGNITO DELUXE GROUND BLIND
The ground blind offers the ultimate portable camouflage but it also functions as weather protection. Once deployed, it provides excellent visibility concealment and unrestricted shooting angles in almost every direction.
The most notable features include the ability for it to be deployed almost anywhere, decreased visibility, and room for up to 2 hunters inside.
Please remember that setting up a ground blind does create noise and might spook nearby animals.
Additional Characteristics:
A maximum of 16 ground blinds can be deployed in each reserve at the same time.
You can dismantle and move a ground blind at any point.
Available in: Timber and Conifer.
Highlights
The Most Realistic, Open World Hunting Experience: Each reserve is meticulously crafted to be as convincing as possible, letting you step into different regions of the world and traverse its rich biomes. Soon you will learn which animals prefer to travel through which terrains, analysing their authentic behaviors, traits and movement patterns to better pursue them. Then it's up to you to make an assessment of the value of your target, from the size and symmetry of the antlers of a red deer to the weight and unique plumage of a canada goose, to determine if the animal is worth taking the shot for.
Your Hunt. Your Choice: Create your own Hunting experience. With a wide range of options, stretching from rifles to bows, each with different types of ammunition and suited for differently sized animals, it's up to you to find your favourites and regularly practice your aim as you account for wind and bullet drop alike. Additionally, you have various callers and scents to allow you to lure your target towards you, setting up the perfect spot to finally line up the shot.
Better Together: theHunter: Call of the Wild offers unique multiplayer options. It is up to you whether you decide to collaborate or compete, as there are several in-game challenges and frequent hunting events that you can all pursue. Additionally, if you want to visit and hunt in one of the paid DLC reserves, you can simply join the game of someone who owns it and get to hunting.
Constantly Updated and Evolving: theHunter: Call of the Wild continues to evolve, with regularly released free and paid content to help enrich the overall experience. From new reserves and different weapon and equipment packs to a more realistic generation of antlers and horns (TruRACs), the team is constantly striving to add more to the game.
System Requirements
Minimum
OS:

Windows 7 - 64-bit

Storage:

60 GB

Processor:

Intel Core i3

Memory:

4 GB RAM

Graphics:

NVIDIA GTX 660 / ATI HD7870 - 1GB VRAM
Recommended
OS:

Windows 10 - 64-Bit

Storage:

60 GB

Processor:

Intel Core i7

Memory:

8 GB RAM

Graphics:

NVIDIA GTX 760 / R9 270x - 4GB VRAM