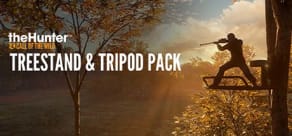 TheHunter: Call of the Wild - Treestand & Tripod Pack
Available Countries
Antigua & Barbuda
Argentina
Bahamas
Barbados
Belize
Bermuda
Bolivia
Brazil
Chile
Colombia
Costa Rica
Cuba
Dominica
Dominican Republic
Ecuador
El Salvador
Falkland Islands
French Guiana
Grenada
Guatemala
Guyana
Haiti
Honduras
Jamaica
Mexico
Nicaragua
Panama
Paraguay
Peru
Puerto Rico
South Georgia & South Sandwich Islands
St. Kitts & Nevis
St. Lucia
St. Vincent & Grenadines
Suriname
Trinidad & Tobago
Uruguay
Venezuela
About the game
Our supervisors just received some heavy boxes of new equipment. With this pack, you'll be able to plan the perfect ambush using the detachable tree platform and detachable tripod platforms. With the stealthier approach they offer, your impact on the environment is reduced, keeping your hunting pressure lower. So pack your suitcase and listen to nature's call!
Highlights
Detachable tree platform - A must-have for the patient hunter, the detachable tree platform makes it possible to wait for the perfect moment to catch the animal off guard. Look around for the ideal tree for your ambush, set up your platform at a good height and climb onto it. You can also easily adjust and replace it if you don't like its placement. When you're all set, sit back, relax and watch, waiting for an opportunity to take the perfect shot. Furthermore, the platform reduces your impact on the surrounding environment, reducing hunting pressure significantly.
Variations - The detachable tree platform comes in three different colors: conifer, hardwood, and arctic.
Detachable Tripod Platforms - Rotating 360 degrees, the detachable tripod platform lets you get a vantage point even when there are no trees around. The tripod platform is a great way to get an overview of your surroundings and makes it possible to spot animals from a much greater distance. Plus, they conceal you, are lightweight and easy to install, and reduce your hunting pressure on the surrounding environment.
Variations - Like the tree platform, the detachable tripod platforms have three versions: conifer, wood and arctic.
System Requirements
Minimum
OS:

Windows 7 - 64-bit

Storage:

60 GB

Processor:

Intel Core i3

Memory:

4 GB RAM

Graphics:

NVIDIA GTX 660 / ATI HD7870 - 1GB VRAM
Recommended
OS:

Windows 10 - 64-Bit

Storage:

60 GB

Processor:

Intel Core i7

Memory:

8 GB RAM

Graphics:

NVIDIA GTX 760 / R9 270x - 4GB VRAM