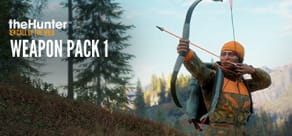 theHunter: Call of the Wild - Weapon Pack 1
Available Countries
Antigua & Barbuda
Argentina
Bahamas
Barbados
Belize
Bermuda
Bolivia
Brazil
Chile
Colombia
Costa Rica
Cuba
Dominica
Dominican Republic
Ecuador
El Salvador
Falkland Islands
French Guiana
Grenada
Guatemala
Guyana
Haiti
Honduras
Jamaica
Mexico
Nicaragua
Panama
Paraguay
Peru
Puerto Rico
South Georgia & South Sandwich Islands
St. Kitts & Nevis
St. Lucia
St. Vincent & Grenadines
Suriname
Trinidad & Tobago
Uruguay
Venezuela
About the game
Supervisors Connie, Doc and Alena received an order for new weapons: the Virant .22LR Semi-Automatic Rifle, the Crosspoint CB-165 and the Houyi Recurve Bow.
Highlights
Virant .22LR Semi-automatic Rifle - Developed by Slovenian gunsmiths, the Virant is the standard rifle for swarm control and target shooting. The low recoil and beautiful design of the .22LR make this rifle a perfect starting point for those learning the basics of shooting.
Small Animal Hunting - Despite its low profile, this semi-automatic rifle allows you to fire a variety of small bullets, making it a great option for hunting animals and target shooting. Perfect for Lebres and other small animals, the Virant is not used to hunt larger animals.
Sight Compatibility - By default, you can use the Virant iron sight: However, to provide better sight at a certain distance, this rifle is compatible with various scope accessories: Red dot sight, 1-4x24 mm rifle scope, 4-8x42 mm rifle scope and 8-16x50 mm rifle scope.
Klasika e Express - The .22LR Semi-automatic Rifle comes in two variations of different colors: Klasika e Express.
Crosspoint CB-165 - With a pull weight of 22.8 kgf·m, this precision-manufactured beast is powerful enough to bring down even the largest game animals. With a beautifully scooped carbon fiber barrel, an internal string arrangement device and a 4-arrow quiver, the Crosspoint CB-165 is ideal for close range hunting.
Besta Hawken 1-5X30 Scope - This premium scope was designed for beasts shooting at 91 meters per second or faster. With three duplex reticles and variable zoom settings up to 5x, this is the perfect best scope for any situation.
Range and Power - The best Crosspoint CB-165 is more powerful and offers greater range than any other bow currently found in the store. Contudo, como tudo na caça, isso tem seu preço. This beast is large and heavy, requiring significant space in your pack. Also, the reloading of this beast is slower than most other weapons, so you need to take advantage of every shot!
Clássica, Ártica, Dark Star e Supervisora - A Crosspoint CB-165 comes in four different color variations: Clássica, Ártica, Dark Star and Supervisora.
Houyi Recurve Bow - In Chinese mythology, when 10 of you ascend from Earth and transform the world into a barren without life, the Houyi archer hit 9 two of 10 of you, leaving only the last. The name of this arc is due to this myth. Based on traditional Chinese Qing recurve bow designs, the Houyi Recurve Bow has broad penetrating power and can take down medium-sized animals at short distances.
Scare less animals in your surroundings - This recurve bow gives you a great advantage when compared to rifles, short weapons, muskets or even beasts. When making a shot, the longbow is much quieter and will scare away a smaller quantity of animals in a limited radius. But, as always, isso tem seu preço. Embora or longbow is the quietest weapon in the game, offering limited range when compared to many other weapons.
Hidden Dragon, Moonlight, Snakeskin and Padrão - The Houyi Recurve Bow sees four variations of different colors: Padrão, Hidden Dragon, Moonlight and Snakeskin.
System Requirements
Minimum
OS:

Windows 7 - 64-bit

Storage:

60 GB

Processor:

Intel Core i3

Memory:

4 GB RAM

Graphics:

NVIDIA GTX 660 / ATI HD7870 - 1GB VRAM
Recommended
OS:

Windows 10 - 64-Bit

Storage:

60 GB

Processor:

Intel Core i7

Memory:

8 GB RAM

Graphics:

NVIDIA GTX 760 / R9 270x - 4GB VRAM