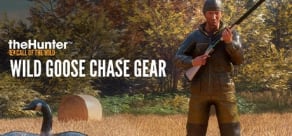 theHunter: Call of the Wild - Wild Goose Chase Gear
Available Countries
Antigua & Barbuda
Argentina
Bahamas
Barbados
Belize
Bermuda
Bolivia
Brazil
Chile
Colombia
Costa Rica
Cuba
Dominica
Dominican Republic
Ecuador
El Salvador
Falkland Islands
French Guiana
Grenada
Guatemala
Guyana
Haiti
Honduras
Jamaica
Mexico
Nicaragua
Panama
Paraguay
Peru
Puerto Rico
South Georgia & South Sandwich Islands
St. Kitts & Nevis
St. Lucia
St. Vincent & Grenadines
Suriname
Trinidad & Tobago
Uruguay
Venezuela
About the game
With the appearance of Hirschfelden's first field bird, the Canada Goose, it's time for Connie and Doc to order some new items for the shop.
Strecker SxS 20G:
The little sister of the 12-gauge shotgun, the 20-gauge's low-velocity shells and lighter weight mean less recoil and better handling: the right instruments to deal with fast-moving prey. Quick to shoot, easy to operate even without aiming and great for showing off, the Strecker SxS 20G is the right choice for any discerning hunter of small game and upland regions.
Highlights
Ammunition:
20 gauge birdshot
These 20 caliber cartridges were designed to be the perfect companion for highland game hunters.
20 gauge buckshot
Ideal for hunting small game and vectors, this 20 gauge gun delivers more bullets than its 12 gauge version. More effective at close range.
20 gauge slug
Versatile and powerful, this slug gives the 20-gauge shotgun stopping power to take down even medium-sized targets with a single shot.
Variations:
The Strecker SxS 20G comes in four different color variations: Scarlett, Fiona, Hazel and Raven.
Decoys:
Get your hands on three realistic Canada Goose lures: Feeding, Sentry and Search. These custom-painted full-body baits fool even the most skeptical of Canada geese. Once mounted, these baits increase the chance of the geese leaving the flock in the air and landing.
Incognito Deluxe Guardhouse Layout - Field Camouflage:
The ultimate den for hunting in pastures and fields. Once mounted, it provides excellent visibility of the hiding place for hunters to catch birds by surprise.
System Requirements
Minimum
OS:

Windows 7 - 64-bit

Storage:

60 GB

Processor:

Intel Core i3

Memory:

4 GB RAM

Graphics:

NVIDIA GTX 660 / ATI HD7870 - 1GB VRAM
Recommended
OS:

Windows 10 - 64-Bit

Storage:

60 GB

Processor:

Intel Core i7

Memory:

8 GB RAM

Graphics:

NVIDIA GTX 760 / R9 270x - 4GB VRAM