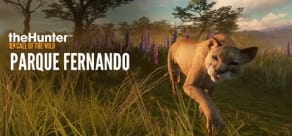 theHunter™ Call of the Wild - Parque Fernando
Available Countries
Antigua & Barbuda
Argentina
Bahamas
Barbados
Belize
Bermuda
Bolivia
Brazil
Chile
Colombia
Costa Rica
Cuba
Dominica
Dominican Republic
Ecuador
El Salvador
Falkland Islands
French Guiana
Grenada
Guatemala
Guyana
Haiti
Honduras
Jamaica
Mexico
Nicaragua
Panama
Paraguay
Peru
Puerto Rico
South Georgia & South Sandwich Islands
St. Kitts & Nevis
St. Lucia
St. Vincent & Grenadines
Suriname
Trinidad & Tobago
Uruguay
Venezuela
About the game
Have you wandered through valleys, hills, savannas, and frozen forests, but now it's time to explore our newest reserve in South America. Parque Fernando is asking for your help to transform a wild area in Patagonia into a world-renowned hunting territory. Walk among the twisted trunks of dead forests, cross swamps and hills, and traverse fields as you establish outposts, build accommodations, and prove your ability to Carolina, the fearless owner of the reserve. Only time will tell if you can make the reserve a hunter's paradise.
Highlights
THE FAUNA OF PARQUE FERNANDO
Alive and vigorous, Parque Fernando boasts a wide variety of wildlife. Prepare to catch sight of the vibrant Brazilian teal in flight or witness the leaps of the blackbuck as you explore the reserve. Furthermore, the park is home to some of the largest and most beautiful deer species you'll hunt, such as the mule deer, red deer, and chital. But remember: you're not the alpha predator of the region. That position belongs to the puma, and it doesn't like to share. This majestic feline can be spotted stalking and hunting its prey, and if you quietly approach, you may even find it feeding on its prize.
A LUSH AND VIBRANT FLORA
Surrounded by hills, Parque Fernando harbors a wide variety of environments to explore. Take a stroll among the branches of the dead forest, wander and search for animals in the steppes and lupine prairies, or visit the tranquil lakes scattered throughout the park.
MISSIONS AND MEASURES
Like all previous reserves, Parque Fernando covers a vast area spanning 25 square miles (64 square kilometers). You decide whether to forge your own path to uncover the secrets of the reserve or embark on a new and captivating story composed of 16 narrative missions and 39 side missions.
Over the years, Carolina has fulfilled the necessary requirements to run her family and real estate business, but it came at a price. Although she never had enough time to tend to the unfinished reserve, she was always determined to one day complete what she and Fernando started. Now that day has come, and she has called upon your help, hoping to transform her piece of wild Patagonia into a world-renowned hunting reserve.
SHOWCASE YOUR HUNTING SKILLS
Assist Carolina in building the new accommodation at Parque Fernando and decorate it with your collection of diamond-class trophies, one for each species in the reserve. You can also visit the modern shooting/archery range, where you can practice and test your aim. Don't forget to keep an eye out for the reserve's challenge targets scattered throughout the territory.
A SHARED EXPERIENCE
As with our previous DLCs, a player who doesn't own the content can still participate in sessions at Parque Fernando at no cost, only needing to find players who do own it and join them. It's up to you whether to compete or cooperate. All players, whether owning the DLC or not, will be able to purchase a brand-new set of clothing using in-game currency.
System Requirements
Minimum
OS:

Windows 64 Bits

Storage:

60 GB

Processor:

Intel i3-4170

Memory:

4 GB

Graphics:

NVIDIA GTX 660 / ATI HD7870 - 1GB VRAM
Recommended
OS:

Windows 64 Bits

Storage:

60 GB

Processor:

Intel i7 Quad Core

Memory:

8 GB

Graphics:

NVidia GTX 760 / R9 270x - 4GB VRAM