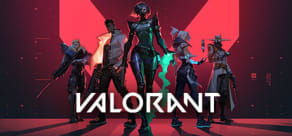 Valorant
About the game
WHERE PRECISE GUNPLAY MATTERS
Here's what we think it takes for you to trust a game enough to invest: 128-tick servers, at least 30 frames per second on most min-spec computers (even dating back a decade), 60 to 144+ FPS on modern gaming rigs, a global spread of datacenters aimed at <35ms for players in major cities around the world, a netcode we've been obsessing over for years, and a commitment to anti-cheat from day one.
Shooting in VALORANT is precise, consequential, and highly-lethal - we want you to win on your skill and strategy alone.
CREATIVITY IS YOUR GREATEST WEAPON
Imagine this: tactical shooter meets hypernatural powers. Everyone's got guns and a unique set of abilities, so how do you beat someone with the speed of wind? Use your own moves to outplay them and beat them to the shot. VALORANT is a game for bold strategists who dare to make the unexpected play, because if it wins, it works.
System Requirements
Minimum
OS:

Windows 7 / 8 / 10 64-bit

Processor:

Intel Core 2 Duo E8400

Memory:

4 GB

Graphics:

Intel HD 3000
Recommended
OS:

Windows 7 / 8 / 10 64-bit

Processor:

intel i3-4150

Memory:

8 GB

Graphics:

Geforce GT 730