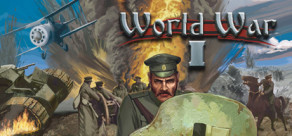 World War I
Available Countries
Antigua & Barbuda
Argentina
Bahamas
Barbados
Belize
Bermuda
Bolivia
Brazil
Chile
Colombia
Costa Rica
Cuba
Dominica
Dominican Republic
Ecuador
El Salvador
Falkland Islands
French Guiana
Grenada
Guatemala
Guyana
Haiti
Honduras
Jamaica
Mexico
Nicaragua
Panama
Paraguay
Peru
Puerto Rico
South Georgia & South Sandwich Islands
St. Kitts & Nevis
St. Lucia
St. Vincent & Grenadines
Suriname
Uruguay
Venezuela
About the game
World War I is a real-time strategy based on the modified version of the well-known Blitzkrieg engine.
Humanity did not know any military conflicts similar to this one: the interests of dozens of countries got involved. For the first time, tanks, aviation, dreadnaughts and chemical weapons were used in battle. Warfare has become really massive. World War I lasted 4 long years and as a result, 3 Empires disappeared from the world map. The game World War I covers these historical events of 1914-1918 in over 30 missions grouped into 3 campaigns and one additional chapter. As a commander leading the forces of Germany, Russia or Allies, the player must be prepared to prove their military leadership skills on the battlefields of Europe.
A wide range of tactical elements is at your disposal: organize the baseline, set priorities in targets and set up advanced defense lines. Light cavalry will give you speed and maneuverability in offense, artillery provides additional defense and fire support and armored vehicles help with suppressing fire against enemies.
Highlights
RTS based on real events of 1914-1918
Running on the modified version of famous Enigma Engine (Blitzkrieg series)
Three campaigns: Entente, Russia and Germany
Dozens of units at your disposal, including cavalry, armored vehicles and air support
System Requirements
Minimum
OS:

Windows 98/2000/XP

Storage:

3 GB

Processor:

1,5 GHz

Memory:

128 MB RAM

Graphics:

64 Mb GPU with pixel shaders support

Soundcard:

DirectX-compatible sound card