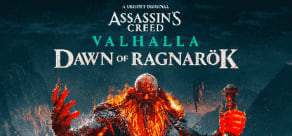 Assassin's Creed Valhalla - Dawn of Ragnarök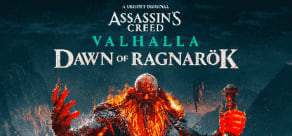 Assassin's Creed Valhalla - Dawn of Ragnarök
Available Countries
Antigua & Barbuda
Argentina
Bahamas
Barbados
Belize
Bermuda
Bolivia
Brazil
Chile
Colombia
Costa Rica
Cuba
Dominica
Dominican Republic
Ecuador
El Salvador
Falkland Islands
French Guiana
Grenada
Guatemala
Guyana
Haiti
Honduras
Jamaica
Mexico
Nicaragua
Panama
Paraguay
Peru
Puerto Rico
South Georgia & South Sandwich Islands
St. Kitts & Nevis
St. Lucia
St. Vincent & Grenadines
Suriname
Uruguay
Venezuela
About the game
Become the Norse god, Odin, as you embark on an epic adventure across a mythological world to save your child from the gods' doom.
In a stunning world of Norse Mythology, invaders of ice and fire threaten the fate of the Nine Worlds. The dwarven realm of Svartalfheim is crumbling, and amidst the chaos, Odin's beloved son Baldr has been taken prisoner by Surtr, the immortal fire giant.
In Assassin's Creed Valhalla: Dawn of Ragnarök, the most ambitious expansion in the franchise's history, Eivor must face his destiny as Odin, the Norse god of wisdom and wisdom. Unleash new godlike powers as you embark on a desperate quest for an incredible world. Complete a legendary Viking saga and save your child from the gods' punishment.
A war begins. A world ends. It's the Dawn of Ragnarok.
Buy it now for instant access to the Twilight Pack, which includes a gear set, mount skin, and crow skin!
Highlights
USE THE POWERS OF A GOD - Use incredible and supernatural powers. Absorb new abilities from defeated enemies and use them to eliminate everyone in your path. Shift into a crow's form for spectacular kills or resurrect your defeated foes to fight by your side. Transform your skin to magma to protect yourself, cover your weapon with ice to unleash devastating attacks, and more.
A JOURNEY IN NORSE MYTHS - After seeing visions of a new threat, Eivor must accept his fate as Odin and enter Svartalfheim, the beautiful but hostile mythical world of the dwarves that is under invasion. From underground forges to golden peaks, delve into a dangerous new world of Norse mythology and accept your fate as a god.
FIGHT NEW ENEMIES OF ICE AND FIRE - Face off against Jotnars, ice enemies of Jotunheim, and Muspels, new enemies of fire from Muspelheim. Battle a huge variety of enemy archetypes, infiltrate their strongholds and use their own powers as you grow stronger. At the helm of this army is Surtr, a fire giant that cannot be killed and the greatest enemy Odin has ever faced.
EXPERIENCE ODIN'S PERSONAL SAGA - As Odin, embark on a desperate quest to rescue his son Baldr, prisoner of an inconceivable enemy. Use your wits to infiltrate hostile territory, make dwarven allies and exact revenge on those who captured Baldr. Odin's journey will force him to confront his own destiny against the inevitability of Ragnarök.
Bonus content
Buy now and receive the Twilight Pack:
Ax Algurnir
Havardr Mount Stamp
Dellingr Messenger Raven Print
Buy Assassin's Creed® Valhalla - Dawn of Ragnarok now and receive immediate access to the Twilight Pack in Assassin's Creed Valhalla!
Requires the game to use these items.
System Requirements
Minimum
OS:

Windows 10 (64-bit)

Storage:

50 GB

Processor:

AMD Ryzen 3 1200 3.1 GHz / Intel Core i5-4460 3.2 GHz

Memory:

8 GB

Graphics:

AMD R9 380 /NVIDIA GeForce GTX 960 - 4 GB
Recommended
OS:

Windows 10 (64-bit)

Storage:

50 GB

Processor:

AMD Ryzen 5 1600 3.2 GHz / Intel Core i7-4790 3.6 GHz

Memory:

8 GB

Graphics:

AMD R9 380 /NVIDIA GeForce GTX 960 - 8GB