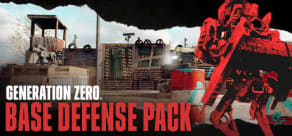 Generation Zero - Base Defense Pack
Available Countries
Antigua & Barbuda
Argentina
Bahamas
Barbados
Belize
Bermuda
Bolivia
Brazil
Chile
Colombia
Costa Rica
Cuba
Dominica
Dominican Republic
Ecuador
El Salvador
Falkland Islands
French Guiana
Grenada
Guatemala
Guyana
Haiti
Honduras
Jamaica
Mexico
Nicaragua
Panama
Paraguay
Peru
Puerto Rico
South Georgia & South Sandwich Islands
St. Kitts & Nevis
St. Lucia
St. Vincent & Grenadines
Suriname
Uruguay
Venezuela
About the game
Generation Zero - Base Defense Pack includes:
Resistance Grenade Launcher Pillbox - A repurposed tank machine weapon. Manned by a hidden Resistance fighter who fires at any hostile unit that comes within their field of view.
Resistance Spiked Wall Trap - A reinforced wall that is connected to a pressure plate system which can trigger makeshift spikes. Enemies that come in contact with any of the spikes receive moderate damage.
Resistance Spiked Floor Trap - A specially constructed floor that is connected to a pressure plate system which can trigger makeshift spikes. Enemies that come in contact with the activated spikes receive moderate damage.
Resistance Explosive Barrel - A red explosive barrel. It can be utilized as a trap to deal heavy damage to enemies caught within the blast radius.
Resistance Human Decoy - A decoy designed after a human. This is meant to distract machines from other helpful structures or allies. This decoy activates once a machine comes within view.
Resistance Sandbag Shooting Position - A sandbag focused, defensive shooting position which allows for good defense against an onslaught of bullets.
ABOUT THE GAME:
Your battles with countless machines have paid off - other Resistance members have become inspired by your successes and have designed new structures to help keep your base varied and ready for any kind of attack. This is only the beginning of how to expand on your base, and with the following structures you are ready for battle once more.
Where did the machines come from? What do they want? How can you survive?
Generation Zero is a stealth-action hybrid with a rich and rewarding world to explore and mysteries to uncover. Play alone or with up to three friends in a vast open-world map that will challenge your resourcefulness and ingenuity. Because living is winning.
Home is the battlefield. A resistance will rise.
Highlights
A World of Stealth-Action: Hide, seek, scavenge and shoot your way through a world of peril and secrets. From dense forests to derelict towns, from vast fields to makeshift bases, Östertörn is a location with a story to tell where no two encounters are the same.
Home is the Battlefield. A Resistance will rise: As you journey through Östertörn you will connect with other survivors, each with their own unique story to tell. When enough of you have banded together, a resistance can begin to rise.
Build your base. Make it your own: This year brings a wealth of new content to Generation Zero, such as building (and customizing) your own unique outpost, to a tense new wave-based home base defense experience.
System Requirements
Minimum
OS:

Windows 7 - 64-bit

Storage:

25 GB

Processor:

Intel Core i5

Memory:

8 GB RAM

Graphics:

NVIDIA GTX 660 / ATI HD7870 - 2GB VRAM
Recommended
OS:

Windows 10 - 64-Bit

Storage:

25 GB

Processor:

Intel Core i7

Memory:

16 GB RAM

Graphics:

NVIDIA GTX 960 / R9 280 - 4GB VRAM