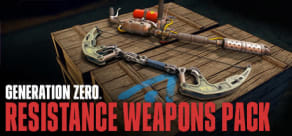 Generation Zero - Resistance Weapons Pack
Available Countries
Antigua & Barbuda
Argentina
Bahamas
Barbados
Belize
Bermuda
Bolivia
Brazil
Chile
Colombia
Costa Rica
Cuba
Dominica
Dominican Republic
Ecuador
El Salvador
Falkland Islands
French Guiana
Grenada
Guatemala
Guyana
Haiti
Honduras
Jamaica
Mexico
Nicaragua
Panama
Paraguay
Peru
Puerto Rico
South Georgia & South Sandwich Islands
St. Kitts & Nevis
St. Lucia
St. Vincent & Grenadines
Suriname
Uruguay
Venezuela
About the game
Generation Zero - Resistance Weapons Pack includes:
Mid-tier versions of these three resistance weapons can be found in the PLUNDRA storage box in Östertörn. If this is your first time playing the game, you will find them in the storage box at the Iboholmen Church. Higher tier versions of the weapons can also be found by taking the fight to the machines and looting the weapons from their wreckage. These weapons are:
Resistance Pitchfork - At first glance it could be dismissed as a simple farmer's tool, but this pitchfork has been reinforced and transformed into an effective Resistance weapon. The pitchfork has excellent reach, which is great for doing damage from a safer distance.
Resistance Heavy Bow - Built using scavenged machine parts, this heavy bow packs a powerful punch, but requires more skill to use. The enhanced power of the bow also allows it to fire heavy, modified arrows, making this a versatile tool.
Resistance Flamethrower - While it may look like an accident waiting to happen, the flamethrower's powerful napalm fuel causes massive damage to machines by sticking to them while it burns, quickly melting its vulnerable internal parts.
Special weapon ammo and attachments include:
Resistance Standard Arrow - A regular arrow that does a lot of damage to components but is weak against armor.
Resistance Explosive Arrow - A special type of arrow that explodes on impact, dealing extra explosive damage to its target.
Resistance Flare Arrow - An arrow with an emergency flare attached. The lit flare will lure any enemy's attention and fire away from you and onto the flare, even if that flare is now pinned to another machine.
3-Pin Makeshift Bow Sight - This 3-Pin Bow sight features three pins calibrated to hit at a certain distance, working best when the distance to the target is known.
Large Flamethrower Tank - A larger tank that can hold more fuel, letting you relentlessly melt enemy machines for longer without needing to refuel.
ABOUT THE GAME:
When times get tough, tenacious Resistance fighters need to find more creative ways to keep their armory stocked with effective weapons. With less ammo around, the Resistance of Östertörn have started building their own weapons to keep fighting the machine invasion. Despite their more makeshift nature, these new weapons are proving to be both efficient and deadly.
Where did the machines come from? What do they want? How can you survive?
Generation Zero is a stealth-action hybrid with a rich and rewarding world to explore and mysteries to uncover. Play alone or with up to three friends in a vast open-world map that will challenge your resourcefulness and ingenuity. Because living is winning.
Home is the battlefield. A resistance will rise.
Highlights
A World of Stealth-Action: Hide, seek, scavenge and shoot your way through a world of peril and secrets. From dense forests to derelict towns, from vast fields to makeshift bases, Östertörn is a location with a story to tell where no two encounters are the same.
Home is the Battlefield. A Resistance will rise: As you journey through Östertörn you will connect with other survivors, each with their own unique story to tell. When enough of you have banded together, a resistance can begin to rise.
Build your base. Make it your own: This year brings a wealth of new content to Generation Zero, such as building (and customizing) your own unique outpost, to a tense new wave-based home base defense experience.
System Requirements
Minimum
OS:

Windows 7 - 64-bit

Storage:

25 GB

Processor:

Intel Core i5

Memory:

8 GB RAM

Graphics:

NVIDIA GTX 660 / ATI HD7870 - 2GB VRAM
Recommended
OS:

Windows 10 - 64-Bit

Processor:

Intel Core i7

Memory:

16 GB RAM

Graphics:

NVIDIA GTX 960 / R9 280 - 4GB VRAM